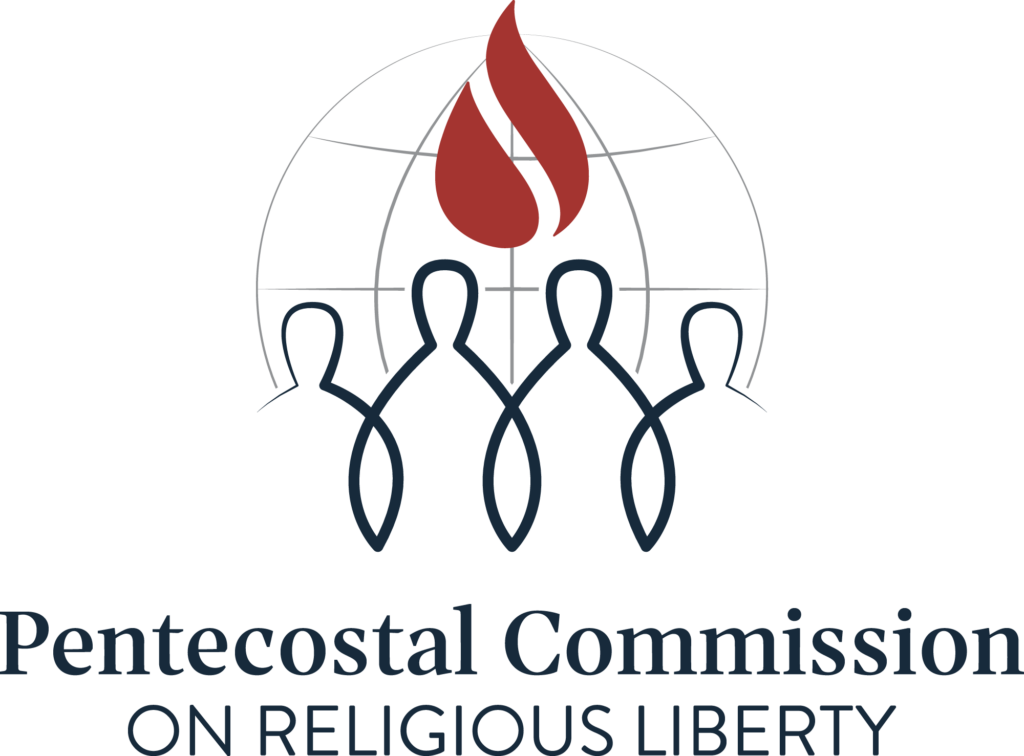 After the 24th of February 2022, the situation in the world has
changed – especially for the discriminated and persecuted Christians. The war in Ukraine has increased the risks for those who defend the suffering believers and fight for religious liberty in Eurasia. Democratic structures slowly lose space when countries like China, Russia, India, Iran, and North Korea increase their autocratic influence.
According to the Pentecostal Commission on Religious Liberty, over 140 countries are NOT filling the conditions of the Human rights declaration of the UN even though they have signed it. The clear trend is that there are more suffering Christians in the world today than before the pandemic.
Many Christian organizations which have been active in advocacy have experienced new circumstances in their work. There have been more arrests, trials, and confiscations of church buildings. Longer punishments and
higher fines have changed the atmosphere and decreased the willingness of volunteers ready to help the persecuted. Fewer and fewer are ready to risk their own security to support Christians who pay a price for their conviction.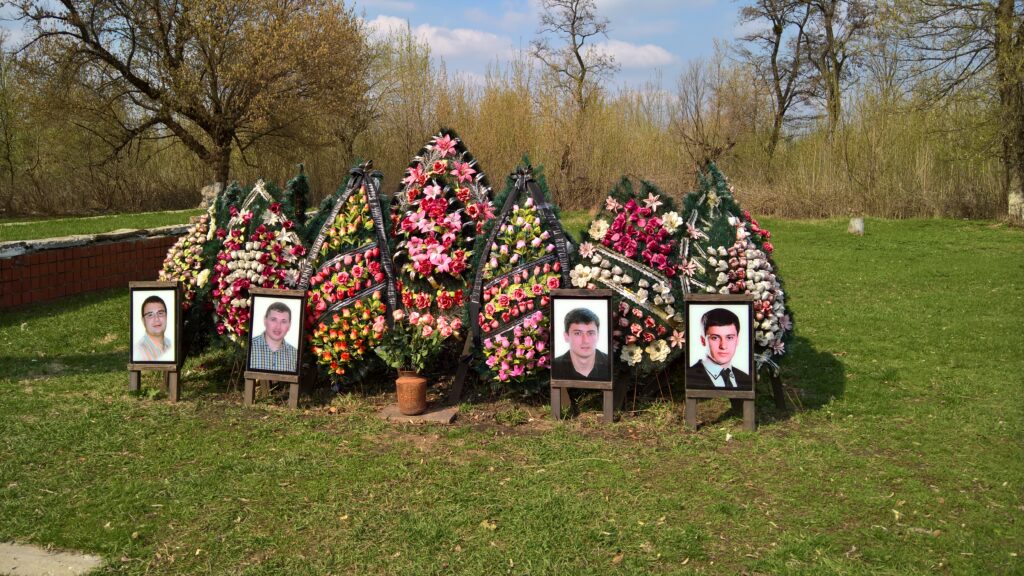 The defense of human rights has become a risky business. Intercession and spiritual support are needed more now than perhaps ever before. Please do not forget that the situation for Pentecostal Christians in the world is still very, very challenging and we must act now.
Eurasia – Region of Tensions and War
When the Russian aggression led their army to Donbas and southern parts of Ukraine, many protestant churches felt under pressure and threat. Pastors and ordinary members of Evangelical churches were kidnapped, tortured, and brought to Russia. Many prayer houses have been confiscated or destroyed.
After the mobilization in Russia, a huge number of Pentecostal brothers were taken to the army, even though they refused to use weapons. Denial to serve will result in a minimum of three years in prison. This is the reason
why hundreds, perhaps thousands, of Christians have left Russia and fled to Georgia, Armenia, Turkey, Serbia, Finland, and Montenegro. The escalated pressure against protestant pastors, who are seen as co-workers to the
West, has also led to judicial entanglements in many regions, which has been the main reason for spiritual leaders leaving Russia.
The discrimination of converts from Islam in Central Asia is still a problem, but surprisingly signals are coming from Uzbekistan, which confirms a more democratic development giving larger freedoms to national churches than before. This is something to thank the Lord for.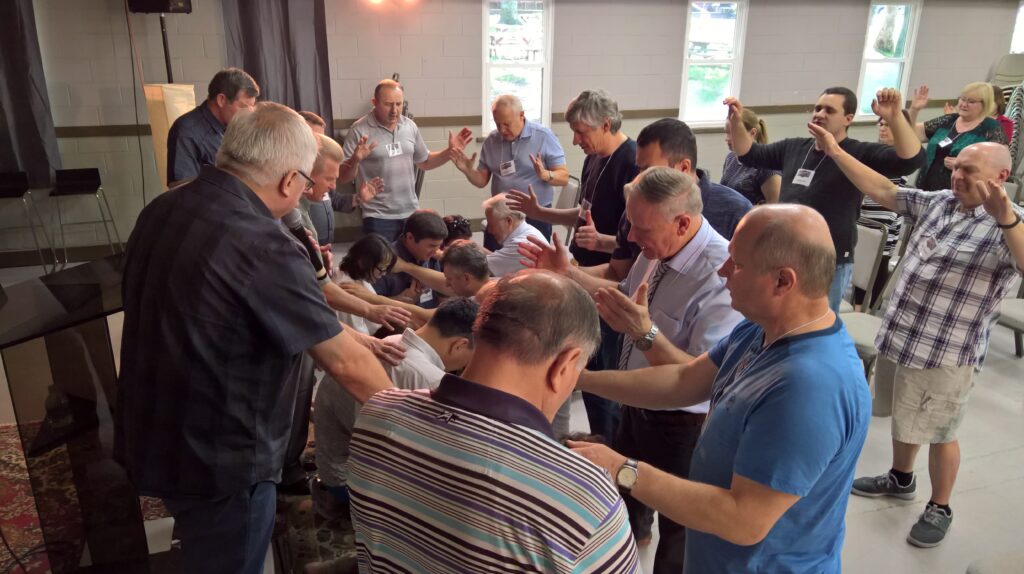 Prayer requests:
Pray for Christian leaders who have been kidnapped and brought to Russia from occupied territories. Remember their families.
Pray for Christian organizations of human rights, who take large risks in dangerous areas in their support of suffering Christians.
Pray for Christian men who are mobilized to the front, even though they decline to use weapons.
Thank the Lord for positive signals from Central Asia according to activities among Turkic and Persian people groups. Pray that this progress can continue.
Forgotten Parts of Suffering Africa
Christian minorities in Islamic parts of Nigeria, North Africa, and East Africa have experienced an extremely difficult period even after the pandemic. Many active members have become martyrs of our time. Others have been tortured, and church buildings have been burned down and confiscated. The authorities usually explain that the high number of victims is a result of the war. Our sources confirm, however, that Christian groups are often targeted when rapes, abuses, and murders become a result of persecution.
One of the worst places for Christians is in Eritrea. We want to remind you that Pentecostal brothers and sisters have been suffering in Eritrea for a long period of time. The leaders of the Pentecostal Full Gospel Church of
Eritrea (FGCE) were imprisoned in 2004-2005. Pastor Haile Nayzgi, Dr. Kuflu Gebremeskel, and Pastor Kidane Weldou have been in prison 17-18 years without any proper judicial process. They have not seen their family
members for a long time.
Eritrea is one of the most difficult countries in the world concerning the restrictions in the religious freedom. Hundreds of believers have been imprisoned. Many people are fleeing from the country. Eritrea has been categorized as a country with an extreme level of religious restrictions and severe violations of religious liberty.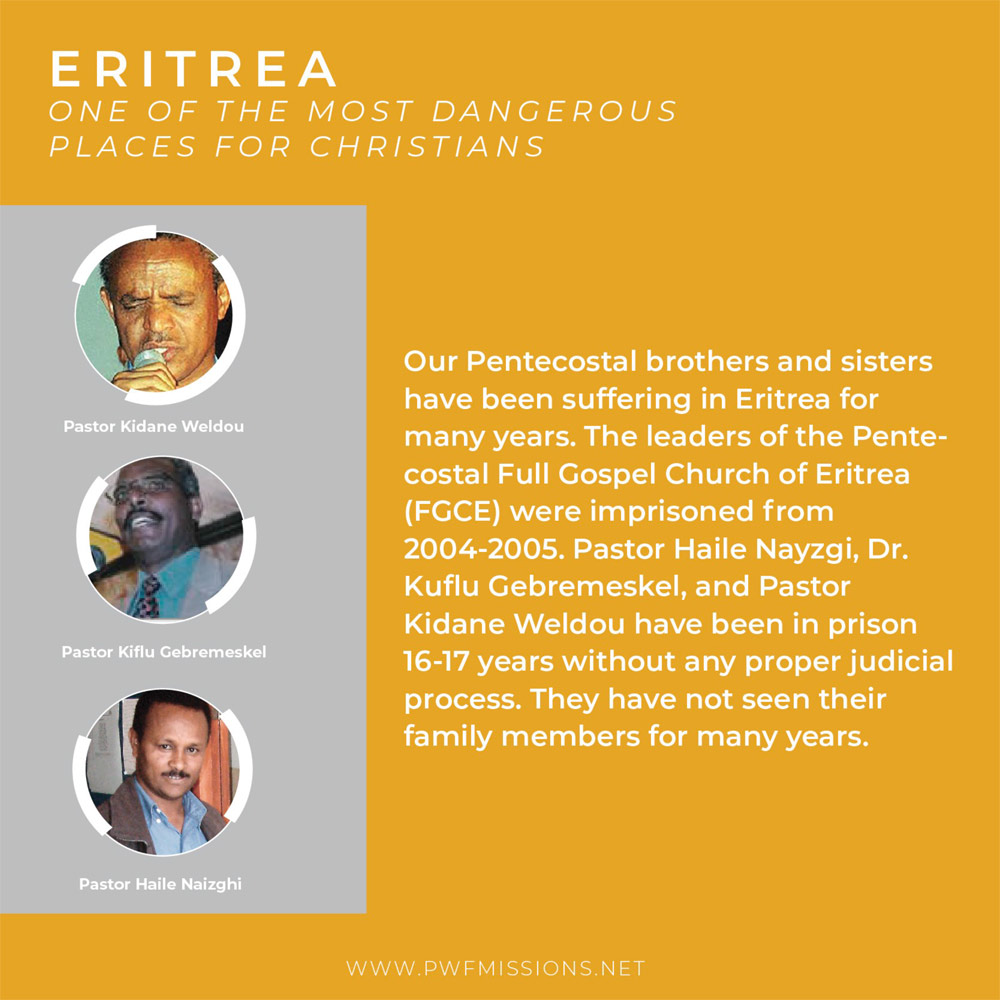 Prayer requests:
Pray for Communio Messianica, the interdenominational network for Muslim Background Believers. They have established judicial platforms in countries of the Middle East and North Africa and at the same
time defending the rights of MBBs in these countries.
Pray for the situation in Eritrea and Tigray, Ethiopia, where a huge number of Christians (and especially Pentecostals) are suffering because of their faith. Pray for their release as soon as possible, so they can serve the Lord in freedom.
Pray for protection to the Christians in Nigeria, Ethiopia, East Africa, and other war zones, where Christians live under daily threat.
Prayer Requests of Persecuted in Asia
Iran, Myanmar, Pakistan, and China are countries where Christians live in difficult circumstances. Persian speaking Christians have a very limited number of places where they can gather peacefully for prayer and open
meetings. In the last years, the authorities have had a systematic plan to close the churches and arrest Christians. Converts of Muslim background are persecuted, and Persian-speaking churches are closed. However, this has
not hindered the growth of Pentecostal and Charismatic churches.
In Myanmar, the military is burning down church buildings of the Chin people to break down opposition against the military power. Of the Chin people, 90% are Christians. Other minority groups of Christian origin in Myanmar are also facing great pressure. Many believers have been put in jail. Others have fled over the border to other countries.
Digital systems of control are being developed at great speed in China today. A clear majority of the Three-self churches already have cameras and identification systems, which register church visitors. This has caused
indirect reactions among students and young people, who are afraid of making it officially known that they are Christians. This can cause discrimination in long-term career advancement where religious participation is not favorable.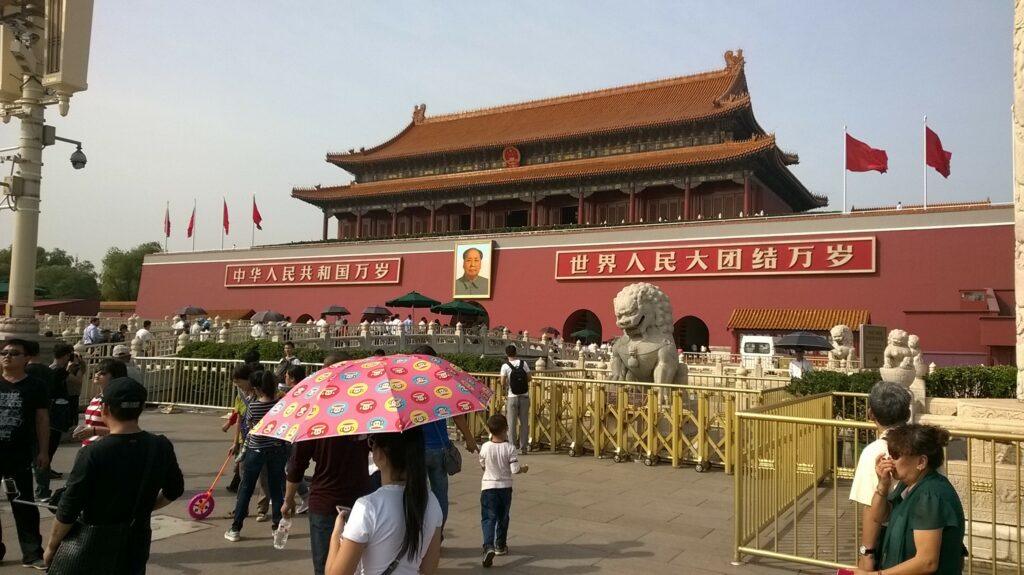 As a result of this, the Christian society and the younger population have started to move from membership in official churches to house churches and unofficial networks, where professions, interests, and hobbies build frames for new social groups of Christian values.
In the state of Karnataka in India, the BJP state leadership has decided that all churches and missionaries should be registered with the aim, that no "unauthorized" missionary activities may continue. In practice, the aim is to
prevent gatherings like house churches from existing. In Chhattisgarh, the Indian digital paper, The Wire, recently reported (1 Oct 2021) how a Hindutva leader, in front of senior BJP politicians, expressed that minorities
in India, such as Christians, should be beheaded!
Prayer requests:
Pray for the Persian-speaking churches in Iran that they can be free to spread the kingdom of God.
Pray for the pastors in Iran who are risking their lives to preach the Word of God on the streets during "the new Iranian revolution."
Pray for the Christians, who fight for peace in Myanmar and defend persecuted Christians.
Pray for younger Christians in China, who have been active in registered churches, but are now seeking new ways to avoid discrimination.
Pray for Christians under threat in northwest China where Christians of Uighur origin have been sent to reeducation camps.
Pray for Cambodia, where new requirements (30 persons needed) for registrations of religious bodies have been received by the government. This is a kind of "early warning" which we fear is a signal of further tightening in the near future.
Pray also for India, where Hindu nationalists and Islamic groups cause problems for Christians in many regions of India. New laws have restricted the opportunities for foreign missionaries.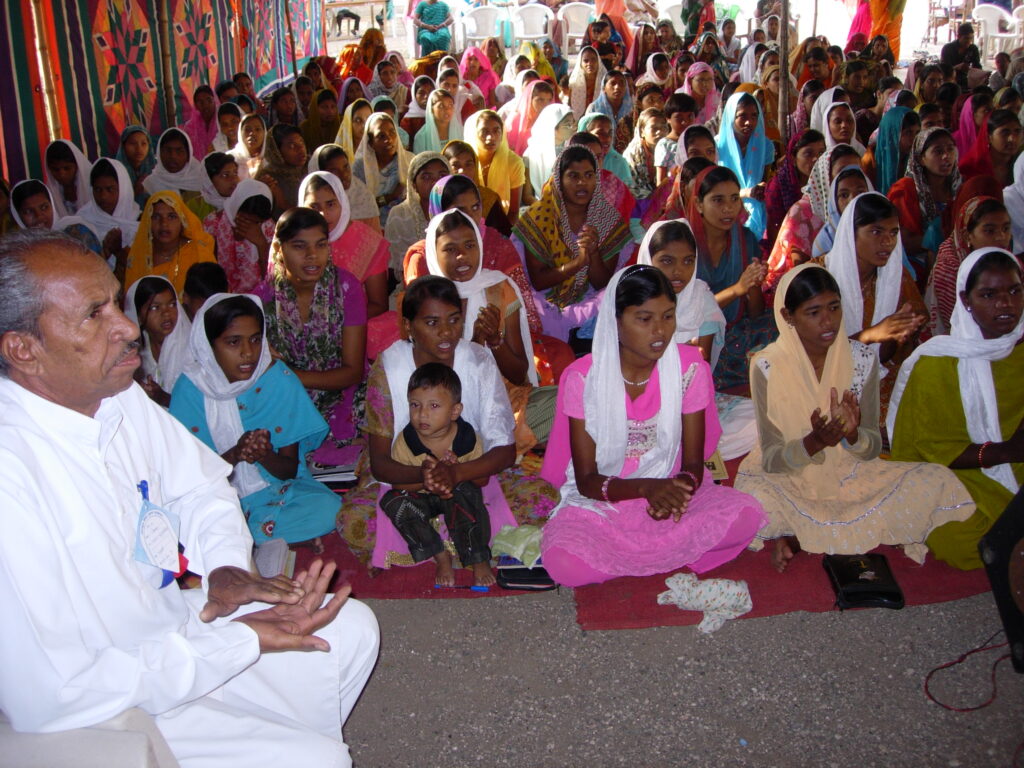 DO NOT FORGET THE INTERNATIONAL DAY OF PRAYER ON NOVEMBER THE 6th! Then the persecuted Christians are remembered in Churches around the world – and of course we want all to continue to pray even after that …
Rauli Lehtonen, Secretary for
Pentecostal Commission on Religious Liberty