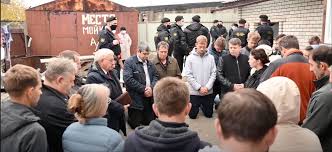 Russian occupants took by force control over Melitopol Pentecostal Church building on Jan24th. One more congregation went underground.
"Despite the pastor's visit to occupants' "administration" to present ownership documents the church was kicked out.
Many Christians remember soviet occupation. We remember how underground Church lives and wins" senior presbyter of Zaporizhzhya region explains.
Support us with your prayers today, please!
Yuri K., Kyiv 29.01.2023