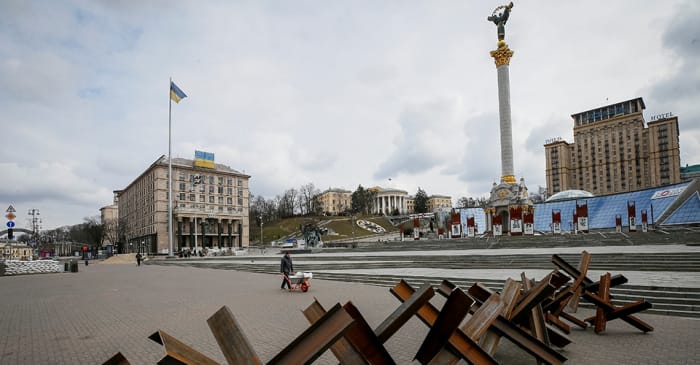 Kyiv curfew Wed. was not that easy as I hoped. Thou deacons teams could stay inside and rest of open air food distribution for seniors and most needy ones.

R.forces shot and killed 10 people standing in line for bread in Chernigiv. They bombed Mariupol' theater with hundreds of moms& kids incide. Do you see these big white ДЕТИ/CHILDREN signs on the theatre both sides? The pic is from space shuttle by Maxar Technologies. Putin' pilot "didn't see" the text and dropped 500 kg bomb! These mass murder must stop!

Politicians prepared Requem for Ukraine, Organisation of United Interests play blind and deaf, EU oppress Poland – Our God has better plan and He is on the move! Hallelujah!

Besides interviews, negotiations, and correspondence I will be moving in Kyiv today as well. My protective vest has not arrived yet. Street combatants security is in priority. Driving I let my brain rest, thou my eyes and emotions suffer. The city is different every day. Even Maidan, the heart of our city is bristling.

When back to our place we continue… Thank you for keeping our hands up! No news yet of 4 young believers from Kherson kidnapped March8th while they were trying to smagle food to their city. Prayer cover an tech support needed. Any body can offer GlobalHawk video? 😉
Yuri K., Kyiv